Get Event Experience: Organise a Royal Wedding Event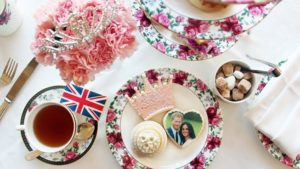 Getting involved in local events by volunteering to run one or by helping out can be a great way to gain experience and start building a portfolio, to support a move into professional event management.
National events offer a great opportunity to get creative with event ideas which involve communities in celebrations and as this year includes two royal weddings there's plenty to inspire you. But of course the big one that's grabbing most of the headlines is on May 19th 2018, the marriage of Prince Harry to Meghan Markle – so with less than two months to go, how can you get an event going and use the wedding as a window to your career future?
Why do?
Organising a local event which can help boost your experience and volunteering portfolio, but of course that's not the main reason for getting involved. The main reward from volunteering to run or take part in an event going comes from the real sense of community giving, sharing and communicating.
We are gathered here today …
Having decided that running an event is a good idea, the next big question is what kind of event should it be? Outdoor events are always a popular way to bring communities together and, with the Beasts from the East hopefully far in the past by May, taking your event outside could make it a real gathering …
If anyone knows any just cause…
Private events are of course that, and apart from the usual boundaries of law, respect, awareness and sensible behaviour that we'd all extend to our neighbours if we're holding a party, there may not be any additional aspects your event needs to comply with, from a legislative aspect.
However, if you're holding an event in any kind of public setting, particularly a street party, then liaising with your local council is essential because – just like a wedding – there's likely to be a licence involved! Happily though, with an event of huge national interest such as the Royal Wedding, many local councils have been urged by the government to waive charges for street party road closures, so it's really worth making the local authority one of your first points of contact at the ideas stage, and also as a way of checking there isn't a specific reason why the event you're planning shouldn't go ahead, or be held in the location you have in mind.
It's also particularly beneficial to check in with your local council to see if they have specific guidance because in some cases you might be able to access help with funding. For instance, Rother District Council runs a community celebration fund, to help out with street party costs. A quick online search using similar terms may bring up funding opportunities for your own local area, but be aware that with the wedding date now in sight, most application windows close by the end of April 2018, so start looking soon or ask whilst …
Many local councils signpost towards the Street Party and The Big Lunch websites as the go-to places for information and guidance, but you will also need to check with the council directly in case of areas for compliance you'll need to be aware of for your own event. Common areas of compliance include road closure, insurance, impact on residents and emergency access arrangements.
In some cases, the local authority may require you to submit a temporary road closure licence and events licence form, even if you are not accessing funding. This is usually just a simple form, completed and submitted so that the council can be aware of all the public space events (such as street parties), to support their own resource planning and risk management, for example traffic diversions and emergency service access planning. Signing this form often also confirms you're aware of and will be planning to hold your event in compliance with the council's guidelines for public space events, such as limitations on use of barbeques, availability of alcohol, decorations and fireworks and fundraising.
I will …
By now you should have plenty of ideas for holding an event or finding a local one to offer your volunteer services in and get that experience extended. If you feel that time's beaten you for getting involved in running your own this time around, don't forget:
Contact local and national charities and organisations, to see if they are running an event they'd welcome you to come and volunteer to help with.
See what your friends and family are up to on the day and maybe organise an impromptu event. Particularly if no one seems too fussed about the wedding but is more keen on the football … as May 19th's also the FA Cup Final day, you could organise an informal 'alternative' football viewing party instead, which would still give you the chance to gather plenty of portfolio evidence of your role in event planning.
There's another royal wedding coming up in July, so time to start planning for that one.
All of our courses give you access to a wide range of volunteering opportunities, which can really help to build your events career from this day forwards!
What's It Like Being a Party Planner?
Are you a 'get-this-party-started' kind of person? If so, you could make a good living and even carve a career from your party personality – so long as you have a professional party planner's skills and stamina to go with it!
Not convinced that being a professional party planner is hard work? We've worked with many and can say hand-on-heart that although every day is different, the truest thing about each and every day is the amazing amount of tasks you need to fit in … oh, and whilst wearing your best party smile, of course! So what's it really like?
Non-event day
The bottom line is that non-event days, the days when an event isn't being held, can be extremely busy in their own right as those are the days for catching up with everything and everyone involved …
1) Clients, contractors – and even committees!
Whether you work freelance or for a company, catch-up could involve formal meetings for proposing big ideas and pitching for the job, or low-key but important meetings with clients to update on progress.
For some party events, particularly charity fundraising parties, business awards or launch parties, you could be working with a whole committee of individuals who have a vested interest in the success of the party.
Meeting up with contractors to agree contracts, check on their progress and ensure that everything is running to schedule is also a vital element of keeping party plans moving forwards.
2) Planning and setting up
Of course, the clue is in the job title, but it can be quite a revelation to realise the amount of planning a party planner role can entail:
Creating themes, event schedules and detailed countdown to-do lists and schedules so that, from invitations to arrivals, catering, decoration and entertainment planning, no detail goes forgotten or is mismatched to theme and purpose.
Creating layouts and floor plans – including the party zone itself and break-out venues, such as quiet zones for older or special guests and to facilitate networking. In fact, many businesses launch with parties which have an underlying business purpose, so planning for these means ensuring that networking party-goers have a wi-fi enabled places to connect.
Planning staffing is also a vital part of each event, so you're also likely to be creating staff flowcharts (particularly as many party staff may double up on roles, such as coat-checking to start with, before hosting and circulating with refreshments after everyone's arrived).
Depending on the type of party, the party planner's role might also involve setting up different aspects such as social media pages, styling and theme options.
3) Correspondence and communications
An essential part of most days involves regular slots for catching up with correspondence such as emails, returning phone calls or initiating contacts with would-be clients or contractors. Setting aside some time for these communications is essential because, as a professional party planner, you're likely to be dealing with more than one event at a time, and each client will want regular contact and updates …
About those updates … communication could also include creating reports, such as budget and timeline, especially for major or committee-based clients.
Vital communications may also include agreeing and writing contracts for contractors (such as caterers and entertainers) who will be part of the event.
You could also be writing briefs which must effectively outline and communicate your design ideas – both for clients and for contractors such as decorators, designers and IT providers.
Communicating risk assessments and 'real-time' schedules for events is also important. Once you've created these (as part of your regular to-do list) it's essential to communicate these plans with all staff involved in the event and even, depending on the scale of the party, with relevant bodies such as the local authority and emergency services.
Oh, and if you're a freelancer, some of your own social media might be included here as you'll also be keeping your own content fresh and replying to social media messages and enquiries, to keep your own business busy!
4) To do list and scheduled tasks
Any day where an event isn't taking place means you'll be getting on with your to-do list, that 'anything goes' list which will relate to every aspect of every party! At the very least, your main to-do list will include variations of:
Sourcing venues, trying out caterers, identifying, interviewing and negotiating with providers for party elements;
Organising entertainment;
Logistical management – yes, that's the cover-all for more than we can possibly list because every party's personal! But you get the idea – from decoration to party favours, to staff uniform, themed accessories, prop design, supporting transport and travel arrangements, if the party needs it, then it's down to the party planner to deliver it!
---
Those new to the world of event management will note the word 'scheduled' there! When you're managing events, including party planning, everything has a deadline, so schedules are sacred. Being a party planner means not only setting schedules and adhering to them, but also making sure everyone else involved does too!
---
On event day
On event day, you'll be working flat out, from setting up well before the event to overseeing (or even being hands-on) with clearing up afterwards, and could include:
Arriving early.
Setting up and ensuring vendors and contractors are set up.
Making sure staff are informed and in place, and whatever it takes for the event to run smoothly.
Helping attendees in arrival.
Overseeing the schedule and troubleshooting any problems with the help of your backup plan (because of course you're responsible for organising that too)!
Evaluating the event – from perspective of attendees and those who've commissioned the party: both you and everyone involved will be looking for positive outcomes.
---
Overall, what being a party planner's like can be dramatically different from day to day, but what you can generally expect from being a party planner is that …
In the long term: you'll have a flexible schedule which will certainly involve some long days, evening and weekend hours.
In the short term: you can expect some 9-5 days when you're working through tasks, meetings and to-do lists, but there will also be some very long days in run up and during an event.
---
Getting your party planning profession started
As ever in event management, the more experience you have in running events, the better your professional prospects. Professional party planners usually get started by:
Organising parties for family and friends is a great way to begin – then scale up;
Volunteering at party events, such as charity fundraiser parties and gala balls;
Training in event management with a vocational course which includes work experience and volunteering opportunities.
Finally, for more insight into what it's like to be a professional party planner, from those who do it every day, there's a great article over at Vogue which includes lots of expert advice. Remember that all of these professionals had to start somewhere, so if you're really planning to party for a living, Event Academy can offer plenty of advice, training and support to help you get your own party career started!
What Are the Salary Expectations of a Charity Fundraiser?

Many of us tend to think of working as a charity fundraiser as being rewarding in the sense of giving, rather than receiving. However, if you've got a flair for finance and funding, then working as a charity fundraiser could be financially rewarding for both yourself and the charity you're working for.
Salary expectations
According to TotalJobs, one of the UK's top job vacancy websites, the average salary for charity fundraisers is £22,493 (as of August 2017). However, this average covers a large range, across starting salaries from as low as £15,000 to the higher salaries of around £60,000 for established professionals:
Starting salaries: Whilst salaries of around £15,000 may be offered initially, even for graduates (depending on the degree subject and relevant experience), most starting salaries increase to around £23,000 yearly if you can bring industry experience and a network of contacts to the role.
Extra experience: for more experienced fundraisers, average salaries can rise beyond that initial £23,000 to around £30,000 a year.
Highly successful: those with a proven track record for achieving client engagement and creating successful fundraising campaigns can command around £60,000 yearly. These higher salaries may be offered to those involved in the strategic, organisational and consultation end of the scale and sought-after fundraiser freelancers.
Salary progression
Progression across salary scales and access to higher salaries can be influenced not only by the skills, knowledge and qualifications brought to each role, but also by any specialisms and evidence of successful charitable fundraising on offer:
Specialism:
With a salary of around £32,500 a year, virtual and events fundraiser specialists can earn up to £10,000 a year more than their mainstream charity fundraiser contemporaries. This enhanced salary reflects levels of additional expertise, knowledge and qualifications in these fields. What's more, continued professional development in specialist areas could further increase higher-than-average earning potential, particularly as current demand for skills in virtual and digital event specialisms continues to grow.
Success in skills:
Being successful means being skilled, which is crucial for progressing to higher grade salaries. Successful fundraising popularly overlaps with event management skills as success in both is often only achieved through running events efficiently.
Success in money management:
And of course it's not just about running those events efficiently – when it comes to charity fundraising, events must also be run cost-effectively. As such, those with a background of solid success in the financial aspects of fundraising may find themselves with plenty of options for higher salaries.
Success in career movement:
It's also possible to move into other types of event management from the not-for-profit sector, as a successful charity fundraiser career shows a good grounding in ensuring cost-effective events with profitable outcomes. This can also be favourable for those looking to move into a career as a freelance fundraising consultant. Working freelance in this way offers plenty of exciting opportunities across a range of fundraising roles within many sectors, not just charity ones, for example within:

Hospitals and hospices
Education
Culture and Arts
Political parties
Churches
Community organisations
Charity fundraiser roles
Charity fundraiser roles can take on several forms and the skills you have can make you a more natural choice for one of these, such as:
Corporate fundraisers
Working with businesses to generate funds / alleviate costs of events for charities, through strategies such as corporate sponsorship and payroll giving – great for those with solid financial and business skills.
Community fundraisers
Local, national or international charities all employ community fundraisers who literally act as a point of contact by working within local communities is ideal for those with excellent people and communication skills.
Legacy fundraisers
Working with individuals on charitable donation as part of will provision, again the prospects are good for those with skills in communication, planning and finance.
So how do I earn my charity fundraiser salary?
How you earn your salary will be reflected in the job description and any level of responsibility your specific role brings. So, a new-to-role charity fundraiser with no background or qualification in the role may be responsible just for generating funds to start with, or have a low level of responsibility for door-to-door and street collecting, in collaboration with volunteers.
However, it's possible to start higher up (or progress quickly) by gaining the experience and qualifications which lead to fundraising roles with greater responsibilities, such as:
Creative contributions – researching, generating and developing fundraising ideas;
Managing campaigns – for instance door-to-door and street collections or media campaigns;
Recruiting, training and organising – volunteers and staff teams;
Record-keeping, performance monitoring and reporting – your own and others';
Outlet management – such as charity shops, online and mail order;
Budget management – to ensure profitability of projects;
Target management and reporting – for sustainability as well as profitability;
Media management – giving interviews, writing press releases, running media campaigns;
Community outreach –giving talks about the charity and fundraising campaigns. Outreach also includes motivating existing supporters and inspiring new involvement from the community (at individual, small business and corporate levels);
Planning and running fundraising events as a whole – from start to finish rather than just one element;
Corporate strategy – working with corporations on charitable giving (which could include time, products, services or money)
As with effective event management, being a successful (and higher earning) charity fundraiser is about raising client engagement, so in all cases, being able to achieve engagement underpins any successful career in the charity sector.
Other expectations?
Finally, what are the hidden aspects which influence what you can expect to earn as a charity fundraiser?
Counting time, not money
Although full-time roles for fundraisers are common, there's an element of flexibility which is often required – for example. fundraising dinners take place in the evenings whereas street collections are most effective on Saturday mornings at local shopping centre. So, when you consider any salary being offered, remember there's also a time-value to consider, especially as 'peak' time working often isn't compensated by salary or enhanced hourly rates, but by time off in-lieu.
Quality of qualifications
Just like other charitable roles, relevant skills and experience are often viewed more favourably than overall level of education. So, someone with a degree in an unrelated field of study might be deemed less suitable than a candidate with no traditional degree but a certificate or diploma in marketing or event management instead, which may actually reflect more direct experience.
So, whether you're looking to break into charity fundraising, or to improve your progression and salary prospects in a current fundraiser role, taking up event education or training which includes opportunities to gain experience (through volunteering and in-role learning activities) and which puts emphasis on client engagement (essential when fundraising) can be a way to financial success for charities and yourself.
Artist Ambush – this battle helps their battle
Snap Events Team Leader – Antonia Avedine talks to us about putting on their live event at Cargo, London on Weds 7th December
What better way to showcase your musical talents than at a live event! Snap Events our 2nd Postgraduate Diploma team to host their event will be at Cargo in Shoreditch. The event hosted by the Snap Events team (25 in total) will be assessed as part of their end of course project.
In just 3 weeks they have been tasked with coordinating a live event in central London with a budget of £1000 … not easy. There is an awful lot to consider and all they have learnt on the course is put into play. An important aspect of the nights' success is the entertainment. They have been very lucky to have duo Tala Al- Khudayri and Emily Katharine Stephenson-Rose on The Team who produced an amazing song and video "As One" for the event. The girls recorded it in central London last week and there wasn't a dry eye in the office when we played this! The Team have also solicited the talents of family and friends to perform on the night! There will be 7 artists in total including Amy Victoria Thomas from AYEM, super talented singer MM and spoken word artist Jenniah Sense. After each performance The Team will make a collection from the audience and the act that has raised the most money (for the charity) at the end of the night will be the winner!
We spoke to one of The Team leaders Antonia Avedine about what it takes to put on such an event, she said "we've certainly honed our negotiation skills…we were given a budget of £1000 by Event Academy and this needed to be used as a deposit for reserving venues, entertainment, drinks/canapés etc." We asked how she managed to get such a great venue, Antonia said "to secure the venue we managed to negotiate them down to £200, some venues wanted a hefty deposit and a minimum spend of £2000! Cargo have also offered us 10% towards the charity if we reach a bar spend of £5000! So it looks like its going to be a big night in more ways than one!"
The fundraising target was £4000 and today The Team has reached the phenomenal sum of £3948.91 (Tues 6th Dec)! a huge well done to all the team! Antonia says the fundraising has been great fun the whole team have pulled together, the boys have waxed their legs and have tried their hand at being make up artists, the results of which can be seen on instagram!. In addition team member Joe really excelled himself by completing a triathlon (no less) and all money raised will go to Teenage Cancer Trust.
There's more details about the actual event on their Facebook Events page and you can buy tickets through eventbrite. If you can't make it to the event, but would still like to make a donation to the Teenage Cancer Trust then please visit their Just Giving page to donate, or you can buy tickets through eventbrite. To follow The Team on their fundraising journey visit their instagram.
Well done to all the Snap Events Team. We are sure the event will be hugely successful, we wish you all the best of luck!
How to launch a successful fundraising event in just 3 weeks!
by Alex Ferguson PG Sept 2016 student
Team – BrickbyBrick events present FUNPAD: Home away from Home
At – Runway East, 10 Finsbury Square, LONDON, EC2A 1AF
When – Tuesday 6th December, 6.30 to 10.30pm
On the 14th of November our lecturers gave us the brief to put on a Live Event in aid of Teenage Cancer Trust. This gave us 3 weeks in total to find a venue, coordinate the entertainment, invite our guests and market the event oh and raise at least £4000… eek!
The class was divided into 2 teams and key roles were allocated, such as the Team Leaders who are myself (Alex Ferguson) and Stefania Pappagallo. Then we needed a communications team for marketing and social media, a fundraising team to coordinate the activities including sponsorship and the print team for all our marketing materials, leaflets and flyers and a logistics team to put the event night together. As Team leaders, Stef and I didn't want to make all the decisions autocratically, we felt every team member had a valuable input and should get involved. It's certainly not like the apprentice, though the task itself felt similar!
Our first task was to come up with a name! And after a lot of brainstorming we decided to call the event 'FunPad – Home Away from Home' and out of that came BrickByBrick events, kind of step by step – brick by brick I suppose!
Finding a venue was tricky, initially we had 3 possibilities, but one received a last minute booking for the night and the one in Clapham was too small. The 3rd came about by complete chance. One of our team had an interview at Runway East and during the interview our venue struggles came up in conversation and they suggested we use their venue space at Runway East! It just showed us the value of talking to people and making contacts! Now we have an amazing venue, just down the road from Moorgate, in the heart of Shoreditch.
We want the event to have a chilled, fun atmosphere and as we have a lot of family and friends there it should really gel. We've allocated team members, as "guest management" which basically means some of our team will coordinate guests to take part in the activities on the night. There's crazy golf, giant jenga, giant connect 4 and mini board games, as well as canapés and a bar, of course! On the night there will be a chance to win prizes such as a table at Mahiki including drinks. £100 meal voucher for Gaucho and cooking classes at L'Atelier de Chefs. We've been amazed at the resourcefulness of our entire team, but especially Jen and Bella (on our fundraising team). They have managed to pull in so many favours with their extensive contacts!
In the week leading up to the event we've run a 7-Day Challenge where everyone in the team has had to do something they didn't particularly relish!
So we've had a smoker giving up cigarettes for the day. We've challenged Mona who always looks beautifully turned out to wear an elephant onesie around town ☺ and Vara who "likes to chat" doing a sponsored silence! Today is one of our biggest challenges Kam is running £5K who prior to the day joked about not even owning a pair of trainers!
Everyone has done their utmost to make this fundraising event a brilliant success and to raise as much money for this amazing charity as they possibly can. If you'd like to see more pics and videos then please follow us on Instagram and join our event page on Facebook and follow us on Twitter
There's more details about the actual event on our website and you can buy tickets through TicketTailor or if you can't make it to the event, but would still like to make a donation to the Teenage Cancer Trust then please visit:
JustGiving and Text :BRIK87 (amount) to 70070
At the last count on Thursday 1st Dec, we had raised £3,724!
You're closer than you think to a career in event management
Aida Oliva talks about her placement with the charity  DM Thomas Foundation
Name : Aida Oliva (PG Alumni 2016)
Hometown : Barcelona
Course: Postgraduate 2016
Insight: Placement with a charity
For a long time I didn't know what to do with my professional life. Straight after I finished my degree more than 4 years ago in Barcelona I came to London. I needed adventures, I needed it to improve my English and I needed to get away from my little town. I didn't know if I wanted to start a career in Journalism but I wanted to go to London and here I came. London seemed the right place. For 4 years I tried to survive in the working jungle that this city is. I have worked in different sectors, none of them related to what I studied. I worked in Pret a Manger and as a nanny trying to find something that would fulfill my professional ambitions. But they didn't. I could feel that something was missing. The excitement wasn't there. These jobs are dull jobs with no future. So I left seeking my professional passion. But what was it? What could I do?
These questions would fly around my head day and night. I was trying to find something that I liked and I could find myself working in with a future career. And then my mum suggested EVENTS. It sounded strange, I never really thought of that. Not exclusively events, but I had thought about Public Relationships while I was at University. I always liked to socialise with others, to organise things, to be able to put together and to create the strategy of a social event. But I didn't like the bureaucracy and the politics of PR. And events? YES. EVENTS.
My mum had found the solution for me. Mums, what we will do without them, eh?!
I started looking into studying events. That was 2 years ago. And I found a Master's degree in Barcelona that I could do online. And I went for it without realising at the moment that that was a mistake. But at that moment I didn't felt confident enough to study at school here in England. My English wasn't good enough. So doing a Master's in Catalan seemed just much easier. Although, and as I came to realise after, living in London a Master's done in another country doesn't have the same value than one done in UK.
After I finished my studies I tried for a year to find a job in Events in this big city. I did some volunteer jobs in Charities and I discovered my passion for the Industry and for the charities itself. Working with different non-profit organisation with different aims but ultimately with the objective to do some good to our society is so fulfilling. It was then when I realised I wanted to work for charities. I wanted to work in Events for Charities. I loved the idea that I work helping others by doing something that I loved: organising events. I loved the excitement and adrenaline after every event, and when the day comes, to see what you have imagined and help putting together. So I tried to find a job, a paid job, without any success.
I was getting desperate again when I took the initiative to study something here in London that would give me the accreditation that I needed to work in the Sector. I did some research, a lot of research, and I found Event Academy. There were a lot of different schools offering the same exact course that Ashdown, three moths lessons and three month practice –what I wanted, the practice-. The only difference was Ashdown was the only one accredited by the CIM and that made me decide.
I came with a lot of enthusiasm hoping that this will help me. It was kind of my last chance here in London. Sounds a bit dramatic, but this is how I see it. And I found myself in a class with incredible people. A few with the similar stories than mine, few with a completely different backgrounds, but all of them looking for the same than me: experience in the Events Industry.
And we got that. The projects we work through the course are a real professional experience. Not just because you get to know the real client behind the briefing, but because you have to present a real project in short time. I remember the first one, it was chaotic. We thought we could never do it, that was too much for such a short time, but we did it. And the others seemed easier, just because we already pass the first one.
Although the most challenging part wasn't the projects but working with different people. The pressure sometimes can bring the worst out in you and in the others. But you also learn how to be patience and how to manage people with different personalities and characters than yours. Our job, events, is a people job. You have to work in a cooperative way with people in order to success. And working with this bunch of people was a very good trial. Very surprising too. If one thing surprised me about our group in Event Academy was the creativity. I never considered myself creative, and working with some of the most creative mines I've ever seen was incredible. Makes you want to improve and to get better.
After these three months of lessons with some incredible lectures with amazing stories and a lot of positivity, I entered my long expected internship. As I knew since I started, I wanted to work for charities. This was my objective. So I came to work for DM Thomas Foundation for Young People an amazing organisation which aims is to help transform the lives of vulnerable
and disadvantage young people and children across Europe and UK.
They are a very small team. The fundraising team is formed of just two people handling the entire fundraising job. The Foundation itself organises a few events throughout the year. Mainly they acting as an administrative office giving administrative support to their partners who ultimately are the ones who organise the events. I am well aware that events are not just action but also desk job. So I am more than happy to take this kind of job. Working with DMTFYP has given me another perspective of the events job and I take this as an advantage. I have learnt new computer skills and this is always useful. And, luckily enough, I also had the opportunity to actively participate in their first Charity Cup and Afternoon Charity form the beginning through their execution.
But, my three months will finish in three weeks. This is coming to an end. Soon will be just me and the events world. So, with a bit of fear I had already started to look for jobs. And this time, with the experience gain on the course and on the internship I hope I will be able to find a one. I won't get defeated. Now I am an Event Manager, and I will get a job!!
And you, the new undecided person who wants to get into the Events Industry but is afraid of losing, you can too. If I did it you can do it! Let's do it!
Follow your heart
Name

: Louisa Oldfield

Home Town:

Bath and she's lived in California for the last few years

Course

: Online diploma, started Sep 2015 completed Mar 2016.
Want to follow your heart in your job, organise training to get you ahead in a competitive industry and fit it all around the most important people in your life, your family? Read on to find out how alumni Louisa Oldfield did it.
I was finishing my online diploma just as I started working on the Newport Beach Film Festival
Running and promoting and key element of a Californian film festival, in the glorious sunshine and down by the beach. Imagine the sun, sand and people enjoying themselves – all running smoothly thanks to your marketing, logistics planning and excellent attention to detail. This is what alumni Louisa Oldfield was doing as she finished her online diploma with us, while juggling being a mum and planning the family's move back to the UK.
Everyone's life path is different and flexible online study is an ideal way to fit around wherever else your life takes you. Unlike at the beginning of her career, Louisa now has a family and they've moved from the UK to France and California as part of her husband's work. Louisa has spent the last year planning how to get herself into a career she loves while being there for the important people in her life, her children and husband.
I've done lots of different jobs, but running and marketing events is always what I've most enjoyed
Louisa has a successful working history behind her including a fundraising role at Westonbirt Arboretum and a variety of managerial positions. So why did she want to retrain? Simple: Louisa wants a job she loves.
She realized the thing she'd enjoyed most about all those jobs was running spectacular events and making sure they get the attention and attendance they deserve.  Knowing the industry is competitive and with no experience in an events dedicated role, she did the smart thing and decided to get a recognized qualification. When she realized there were no face to face courses available in California, she turned to us.
Don't choose between following your brilliant idea and ticking all the boxes!
The most difficult thing, Louisa told us, was managing her own time while working from home. During March, when Louisa was finishing her assignments, the time difference between the UK and California is one hour less than the rest of the year. So she needed to finish and submit her work first thing in the morning to hit a 5pm deadline. Only a super organized event manager would think about it in this way! Sound like anyone you know?
But event management isn't only about ticking the boxes. Louisa had a fantastic, creative and exciting idea for her project, but she was torn between expressing her own creativity and showing the evidence that was asked for in the assessment criteria. The event she'd designed was multi venue and not all the planning documents requested were relevant.
Louisa contacted our Course Director Claire and they talked it through, agreeing that the assessment criteria would be met and that Louisa should definitely follow her creative ambition! We're not in the business of stifling our student's creative aspirations – we know good event management needs organisation and creativity as well as a good relationship with the client where you inspire them with your ideas.
Loud & Proud in Brighton!
We're getting excited about an event outside London this week – the legendary Brighton Pride! It's a good time of the year to be heading down to the coast and the weather is looking good. Time to don our shades and get ready to celebrate Pride with this year's theme being Carnival of Diversity: Uniting Nations.
Hang on, what about the event managers view on Pride?
Of course we can't go anywhere without thinking about it as event managers. It's what we do! If you've ever found yourself wondering what a job in event management is like, especially if you've an interest in festivals consider Pride from the other side.
Brighton Pride is the largest Pride festival in the UK and its current format has grown year on year since 1992. A charitable organisation since 2004, Brighton Pride faced financial ruin back in 2011 with a defecit of over £200,000. In the last 4 years, under new management, this has been turned around and Pride has raised approx £210,000 for local communities and causes, as well as covering all its operating costs.
Balancing the books to make sure the event is sustainable is no small task and requires a business strategy and professional event management including sponsorship liaison, professional supplier contracts, excellent liaison with the local community and of course, creative flair and excellent marketing to create an amazing experience for over 200,000 guests and spectators from all over the country.
Key event management considerations
Flow of people & traffic: with a huge parade to be planned the route, the movement of people and the usual Saturday traffic must be considered. Then think about the Pride Village Party & the Pride Festival, including the use of Preston park which has an impact on local residents in terms of set up as well as on the weekend itself. Then also think about liaison with public transport companies to ensure visitors can get in and out of the city. Enough to think about yet?
Security: this is always important for any large scale public celebrations, but following events in Nice and Orlando security plans have been reviewed by Sussex Police for this year's Brighton Pride. Brighton Pride's own security team work closely with the local police to ensure a safe event for all.
Fundraising: The core purpose of  Brighton Pride is to raise awareness and promote diversity and tolerance. The money raised by Brighton Pride is distributed through the Rainbow Fund Grant Awards and of course all of this must be planned and marketed to ensure festival goers know where their money is going and to make sure the funds are distributed to the right local causes.
Fun: Last, but not least, any festival is about an amazing experience both for those performing and those attending. The pressure is on at Pride to be big, bold, colourful and outrageous – the bar is high and gets higher every year. Imagine the creative scope and the challenge of coming up with new ideas every year – an event manager's paradise!
Not your usual 9-5 office job then?
Definitely not! Event Managers are generally people who don't want to be stuck in a boring office job. If you like being at the centre of the action, directing it all and thinking on your feet then you're probably an event manager. If you like both being super organised and using your creativity, plus knowing you work best as part of a team this is the kind of job for you.
Of course you don't have to be working on festivals to be a superb event manager and there are plenty of other kinds of events. But if you're attracted by the fun and glamour of celebrity performers, attendees out to have fun and promoting local good causes then festival management may be your dream job.
To find out about different ways to get into event management why not look at our short and sweet Masterclass Courses? Or to get some advice, call our Student Recruitment team on 0207 183 5129 or come along to an open evening and chat to past students.
The featured image by Kyle Taylor is used under a Creative Commons 2 licence 
Making the leap
We caught up with Emma Chapman, who is taking our online diploma course to set herself up to run her own business as an Event Planner. If you're interested in finding out what it's like to study online and why she chose our online course, read on …
What do you love about event management?
When I finished college, gaining a Diploma in Sports Science, I really didn't know what I wanted to pursue as a career. Then a job came up at in the Meetings and Events department at the local conference centre where I was a silver service waitress.
As soon as I started the role, I knew it was for me, I enjoy being organised and structured.  It excited me to see a finished event taking place and thinking back over all the hard work that had gone into it.  I enjoy thinking of the customer's journey, from start to finish, and then pinpointing everything that needs to be organised for them to have an amazing and memorable time.
My Manager at the conference centre moved to an Events Manager role at Sainsbury's Head Office in London, and luckily for me, decided she wanted to take me with her as an Events Planner.  This was a fantastic opportunity for me and allowed me to develop my skills.  I helped organise new product launches, media events, stakeholder presentations, book launches and Comic Relief, where I even got to attend the event at the BBC and mingle with all the celebs back stage.
It was hard leaving a role I loved, but another kind of love brought me to Cumbria, where I had met my husband.  I landed myself a role in Marketing for a Pencil manufacturer and I was responsible for managing their extensive annual events programme which included an International Trade Show in Frankfurt, art festivals and exhibitions, product launches, in store demonstrations and a new factory opening ceremony attended by Her Majesty The Queen and HRH The Duke of Edinburgh.
Why did you choose to study online with Event Academy?
I took a break in my career to have my children and after being off work for a number of years, I needed to get my brain working again.  Not only this, but I was struggling to find a part time role in Events as the majority of them require full time work.  I decided I wanted to take the plunge and start my own business.  I have many years of work experience in Events and Marketing and a CIM Certificate in Marketing, but no formal qualification in Events.
During my research into qualifications, I came across the Event Academy course which sounded perfect.  I knew it would give me insight the areas that I hadn't had experience of in my previous roles, such as fundraising and sporting events.  I needed something flexible that I could fit around my children and my husband's shifts and t course was also accredited by the CIM so I knew it would be a well-recognised qualification.
What advice would you give to someone looking to study Events online?
You need to be organised and passionate about it and you need to be self-motivated as well. Putting in the time and effort to do the lessons and project is essential.  My husband and I have a shared calendar in our smart phones and I schedule in time each week for me to go off to the library or hide in our attic room to concentrate on the course.
The project aspect is very clever because it makes you go back over everything you have done in the lessons, so also acts as part of your revision as well as giving you practical experience of going through the details of planning your own event.
If you need a career and confidence boost, consider studying online. This course has given me back my confidence and fired up my passion for events! I am in the process of getting my website up and running and putting my business plan together and I feel more ready than ever now to go out there alone and organise memorable events for people.
Heading for Glastonbury?
Imagine yourself surrounded by people dancing in the sunshine, chilled and bronzed, everyone's smiling. There are also spaces to sit and indulge in some people-watching. There are couples, groups of mates who've clearly known each other for years, people are laughing and having the time of their lives. Then imagine you made that happen – you're the festival manager and you co-ordinated all the acts, all the tents, stalls and stages.
It's Glastonbury this week and we're excited (just ask Karin, our Head of Recruitment and resident festival queen!) If you live for each of the big festivals coming around again each year and you love the challenge of organising people then a career in festival management could be for you.
Competitive stance in a growing industry
Managing festivals is big business, with numbers of festivals increasing each year in the UK and across Europe. Increasing attendee numbers means more and more jobs are available in festival management, with increasing pressure on festival managers to deliver both revenue and the ultimate attendee experience.
The role demands a fantastic mix of creative and organisational skills to bring an amazing experience completely to life for your attendees. It's a desirable job so if you're serious about a career in festivals, you need to know the competition is fierce. Your challenge, should you choose to accept it, is to know the events industry inside out, including the specialist niches relating to festivals so you can prove you'll be an asset from day 1. That's exactly why we run a module devoted to festivals as part of our postgraduate and diploma courses, to give you the understanding of how it works on the ground.
What do you need to launch your career?
Firstly, you need to know how different festivals work and what attendees expect. Also, you'll need to be able to manage people traffic around the site. Remember access to bars, food, popular stages and toilets can become a flash point if not managed well. And just knowing the theory isn't enough, it needs to be locked into your muscle memory so you can spot and deal with potential problems in the planning stages and not at the event, when it's too late.
On top of getting the festival going in the first place, organisers are increasingly expected to be environmentally savvy and to include ways to reduce the ecological and social impact on the festival site and surrounding communities. To demonstrate your competitive edge you must know the latest trends in the industry and that you have a problem solving approach. For example, do you know anything about UK based suppliers of eco-friendly disposal drinks cups? And how would you deal with a local community opposed to a nearby festival, but who also stand to benefit from the increased tourism and trade to local businesses?
Build your reputation so you already know the right people
Making contacts and making sure your face is known is just as important as attending lectures. Get yourself known by volunteering, the opportunities we offer our student include festivals, sporting events like the London Marathon, fundraising events and more. Not only do you increase your experience when you volunteer, you also get to meet people already working in the industry. Make an impression on them and they'll know they can rely on you next time they need staff.
We share a raft of volunteering opportunities that we hear about through our lecturers (who all work in events themselves), our partner organisations and our past students. They all know that Event Academy students can walk right into the role and deliver what's needed, so they keep coming back to us for volunteers.
If you're inspired by a career in festivals, get in touch once you're back from Glasto and find out about our courses. You can study online or attend the live courses and choose a time commitment that fits with the rest of your life. You really could be looking out over the festival you brought to life …