"Suspend what you think you'd be interested in and put yourself forward"
This is advice from one of our past Diploma students, Sarah Ewum. Her philosophy led her to Vienna for a 5 day study tour last week with the United Nations Association.
Never let it be said that events management is just about organising weddings and private parties. Sarah got to meet with UN agencies specialising in internationally significant issues such as refugee aid, international development and financial terrorism.
So how does a career in event management take you to on a globally significant study tour hosted in Vienna? The answer is by putting yourself forward and always looking for the opportunity to meet new people.
Sarah completed our Diploma course last year. As well as our practical training, she embraced the volunteering opportunities. Having only just graduated, her skill and enthusiasm earned her a role managing a team of volunteers at We The People's Film Festival (WTPFF) last November. WTPFF is organised by the United Nations Association and Sarah has been keen to learn more about the UNA and how they work. This year Sarah will be managing another team for the festival. Attendee numbers have steadily increased since the festival started in 2006 and it now runs over two weeks, so the event management and volunteer teams expect to be kept busy behind the scenes.
Sarah's career journey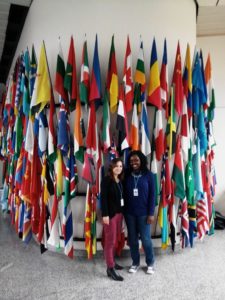 Being a part of the UNA through her work on WTPFF is like a dream come true for Sarah. She studied politics and Sociology at University and has worked in local government for the past few years on a variety of health, social care and policy projects. She clearly cares about having a positive impact on the people around her and the general public.  Through the UNA she is now pursuing her interest in international affairs, which seems like the next logical step.
You may be wondering how all this fits with event management. The link with volunteering is clear, but Sarah's views on why events are important bring a broader different perspective. Sarah is busy setting up her own event management business and she describes really clearly what she aims to do for her clients. Firstly, Sarah believes a brilliant event creates the perfect platform and atmosphere to share ideas and harness collective brainpower to reach our goals. Secondly, a fantastic event is a platform to create memories that will last forever and strengthen social bonds.
Any further career advice?
Sarah tells us that she really encourages anyone who is starting their career or changing their career to get out there and get volunteering. Networking is so valuable as you never know you will meet and what ideas you'll come across.
She also tell us that it takes time to build up what your real interests are and find ways to make them a part of your work life. Again, she advises getting out there, meeting people and trying things in order to find out what works for you.
Lastly, Sarah tells us that the events industry includes such a wide range of events and ways you can work, that it is worth learning the principles and then experimenting with how you can apply
them.
For further information on Sarah's event management services, please email her on sarahewum.events@gmail.com or on Linkedin.
If you're interested in finding out more about the course Sarah took, please check the information on our Diploma course or download a brochure. For information about our other courses please call Karin, our Head of Student Recruitment on 0207 183 5129 or email info@eventcourse.com.