Individuals come into the events industry by various routes and for many different reasons, each with their own an amazing story about their motivations, inspirations and ambitions.
One of our own alumni, Chloe Woolfe, who now works as part of the Event Academy team, has a truly inspirational story to tell … and she's particularly happy to be sharing it this week, as a way of raising awareness of next week's big Royal Albert Hall event: the Teenage Cancer Trust Series.
Special event
Since 2000, the Royal Albert Hall has been hosting a series of concerts in aid of the Teenage Cancer Trust. Generously handing over their venue for vital fund and awareness raising purposes, the Royal Albert Hall facilitates the Teenage Cancer Trust's week-long music and comedy event, which this year runs from Monday 19th March to Sunday 25th March and features big names such as Roger Daltrey, Nile Rodgers, Russell Howard, Kasabian and Def Leppard.
Special interest
Although Chloe's a successful alumnus of our Foundation Certificate course, her interest in being part of this huge Teenage Cancer Trust event isn't an outcome of her interest in events, it's an outcome of her passion for supporting the organisation which, in her own words, "has been a massive part of my life."
Because the fact is, at the age of 17, Chloe was diagnosed with an extremely rare bone cancer. Her gruelling treatment and major operation took place from a Teenage Cancer Trust ward of a London hospital: "The ward was kind of like a home from home … actually, the ward did become home for 9 months" Chloe explains. "They [Teenage Cancer Trust] were a really really big part of my journey really and I think that's why it's now so important to me that I give back and help as many people as I can."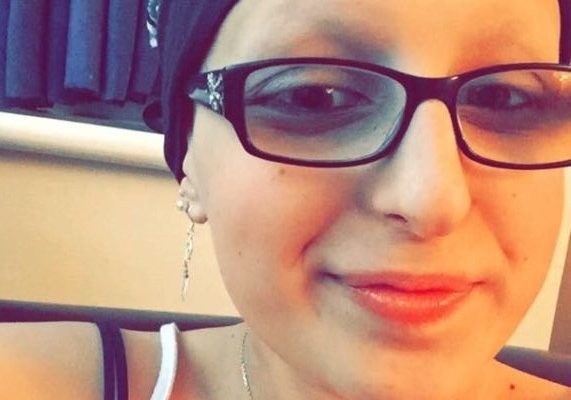 Special involvement
So, determined to do as much as she can to raise the profile of Teenage Cancer Trust events, build awareness of teenage cancer issues and generate vital funds for their work, in return for the support she herself received, Chloe's own special involvement began as a Brand Ambassador for Teenage Cancer Trust. As this is one of the charities Event Academy supports, Chloe soon found herself meeting Director of Education, Claire Derrick and landing a place on the Foundation Certificate course.
"It was so random," she laughs. "I never, ever saw myself working in events. Then I started doing all the work with Teenage Cancer Trust and I thought, you know what I could probably be a regional fundraiser, that sounds like something I could do, that looks fun. Then I met Claire and I was absolutely inspired by her."

Professionally prepared
Whilst she'd already been working in fundraising and brand awareness for the Teenage Cancer Trust, completing the Certificate course has helped to prepare Chloe for being involved in some high profile events … including a special moment at an event-within-event: Roger Daltrey's evening on Thursday 22nd March 2018 at the Royal Albert Hall.
Chloe's been selected from a shortlist of young people around the UK, to give a talk at an event hosted by Roger Daltrey, Patron of the Teenage Cancer Trust. For this special event, Chloe will be talking to an invited audience of Roger Daltrey's celebrity fans and big-name corporations who are interested in supporting the charity. "I've been asked to speak and share my story, which is pretty cool," she explains. "So I'm really excited about that."
And although she's given talks before, particularly to schools to help raise cancer awareness with young people, Chloe's confident that the Certificate course has helped her to prepare for this kind of wider public speaking: "It's taught me a lot about knowing your audience […] I can now see that it's important for each one to be kind of tailored to who you're speaking to.  Before, I had very similar ones that I'd do in a school and the same one I'd do to the guys here [Event Academy] but now I totally get that it can be different: something you'd say to an adult you wouldn't necessarily say to a child, and I guess that's like knowing your client.  Learning how to pitch has been a great part of that, having to actually public speak, that's been kind of a great thing for me as well."
So is she event-ready?
Chloe laughs, before confiding "I'm actually quite nervous" – and who wouldn't be, at such a high profile venue, as part of an exclusive event hosted by a rock legend, and addressing a celebrity audience?
"That's pretty much what it's gonna be … there'll be about 150 people at this event that Roger Daltrey's hosting, which is incredible … so, I'm just gonna get up and do my thing, it's nerve-wracking!"
As a Brand Ambassador who's studied events, Chloe knows about event professionalism, acknowledging that "being the face of the charity" (as she recognises her role) is an extremely important role. But of course Chloe's more than a professional, she has a personal interest in getting up there and getting her message out there: "For me, the whole aim of is to inspire people, and to raise a lot of money for Teenage Cancer Trust. I think the message in my speech, when I actually speak, it's really important. I want people to actually listen to it. I end on how if it wasn't for cancer I wouldn't be the person I am today: cancer has taught me some really important lessons and I want people to actually listen to that because pre-cancer I was a very, very different person in a lot of ways […] other people can't actually understand the things that you go through, like learning that life is actually too short to worry about the stupid little things that people do worry about, so enjoy each day and appreciate – that's what I want to really come across."
And what does come across, speaking to Chloe about the upcoming event, is the way she has turned an extraordinary, life-changing experience into a positive, pro-active passion for supporting Teenage Cancer Trust, and helping to change and improve the life-experiences of others going through cancer.