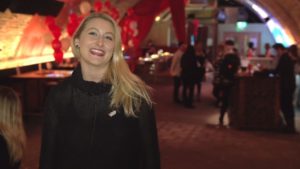 "Oooh, what was it like?" is the first thing we usually ask others when they're telling us about an event, experience or episode in their lives. Of course, sometimes we're just asking out of friendliness and vague interest, but when what they're sharing is something which could help inform our own decisions, then we're definitely 'all ears' to find out more.
So with that in mind, this time's "What it's really like …" post is dedicated to some of our alumni, sharing their own experiences, episodes and reflections after moving into the event industry from studying events with Event Academy.
Into Events – the exhausting way
The events industry is an exciting place to be … but it's also highly competitive. Trying to get into the events industry can quickly become exhausting if you don't have the right contacts and experience to get yourself – and what you can offer – noticed, as a would-be professional.
This was exactly the problem alumni Chirag, now a freelance Production and Content Manager, faced as he tried to break into events with no events experience: "as a 29 year old academic, no one would give me an opportunity " he shares.
---
And of course everyone knows how that cycle works – can't get a job without experience, can't get experience without a job – it's true of any industry, but particularly the events world, where gaining salaried roles can often rely on you bringing the benefits of industry experience, a professional portfolio and ready network of contacts to the role.
---
Of course, non-salaried roles – such as internships – can be found but these often result in exhaustive hours, little pay and niche experience with limited contacts, rather than exposure to the colourful kaleidoscope of event possibilities and networks.
But a good alternative to trying to get noticed amongst all the other hopefuls, plus a way to break that cycle between lack of experience leading to lack of opportunity, is to take some education or training in the events industry …
Event Education – the expensive, eventually way vs the event-ready experience way?
What's great is that there are now many ways to study what's involved in the event industry – not just management and organisation, but also marketing, promotion, and production.
Most types of event education will support your knowledge and understanding, but not all will support the direct experience needed to help you gain an industry role. So what are your options?
University and degree courses
The good news is that there are plenty of university options available for learning about event management. And the bad news? A regularly trending topic in the news, UK university courses are now prohibitively expensive and offer only certainty about coming out the other side with significant debts, rather than a graduate role. University courses also average three years or more, meaning that by the time you graduate, the content of your first year's education could already be outdated in this fast-moving industry.
Susie, who graduated from Event Academy at the end of 2017 (and straight into a job with a company in the top 50 of Forbes Global 2000 list) found that uni wasn't the right place for her: "I tried uni and didn't like it, I didn't feel motivated and wasn't encouraged to feel motivated."
As well as the emotional response to being at uni, there are also fiscal and practical aspects to consider. Certainly, many of our students share that the growing costs of university, coupled with the time university courses can take made them reluctant to consider university as an option for becoming an event professional.
This is also true for career changers hoping to move into events. Having already completed a significant amount of university study, Chirag chose Event Academy rather than university to study events because it offered a way to move into the industry quickly, not be stuck studying for years. 
"You don't need to spend more than 6 months to get your foot in the door," he reveals. "This idea that you need to do a 3 year degree is not everything – and now is the time, with degrees and tuition fees etc. Money-wise it [Event Academy education] is a great investment: you can do the degree alternative for a year, then you've got the levels equivalent of a masters."
Similarly, Charlotte took the Event Academy 3 month part-time Diploma course, in the hope of a fast route into events and marketing, and found that this immersion in event experience made a real difference for her: "From our first lecture, I was an event manager, I knew what I was talking about, I was thinking about events, I was living events, I was volunteering."
Accredited courses
Accredited courses which offer professional expertise encompassing all aspects of event management, for example, hospitality accreditations or Event Academy's Chartered Institute of Marketing (CIM) accreditation, can really maximise the benefits of event education across all essential skills in the role, as alumni Charlotte shares:
"I researched quite a lot of different courses online and read up different experiences and different types of courses being offered but ultimately it was the accreditation from the CIM that made it a definite for me. It certainly rounded my CV! So, I work in marketing at the moment and it's given me another kind of string to my [professional] bow."
Non-accredited courses and classes
These courses may offer some generic know-how about event management, but non-accredited qualifications may not be enough to make a CV stand out when it's time to put those applications in.
Into events with Event Academy
But how does studying with Event Academy help with that all-important foot in the door to a career in events?
Back to Susie. After her unmotivating experience at uni, she's found the opposite experience with Event Academy: "you don't have time to feel anything other than motivated […]. This way of learning [experiential] is great for anyone who wants to work towards projects, be involved. On the Postgraduate course, the clients set the brief and you're involved from the start: this keeps you motivated, keeps it exciting."
And when it comes to experiential learning, Susie also felt that one key difference to her uni experience was that the tutors in her course were event professionals with a wealth of industry experience themselves: "they're not any old teachers, just giving you books about the role – they actually do it and know what it's like."
For Karen, a mature student coming into events from a different career, the 'experience' aspect of studying events with us takes another twist, as she reveals she chose to join the Postgraduate Live course because "it makes the most of my business past and I really wanted the work experience aspect of the course: this was ideal for me." In the event, the work experience placement afforded Karen that vital job opportunity she had been hoping for, as she gained a full-time salaried role as a result of it.
Recent alumni Nelson shares that the volunteering opportunities he accessed on the course, not only helped him to gain experience of event management but crucially to gain the attention of prospective event employers: "I used my volunteering opportunities in interviews with top agencies to give real-life examples to demonstrate how I had applied my academic learning. Agencies were impressed with how I had managed to lead a project on a £40 budget to deliver a successful event that achieved all of our objectives and achieved the [client's] aims. This particular example helped me secure a placement and receive feedback that I outshone other candidates because of my concrete volunteering examples."
Want to know more?
We have pages of testimonials where you can find out more about what it's really like to study at Foundation, Diploma or Postgraduate level through the direct experience of our students and alumni?
You can hear more about Chirag's and Charlotte's experiences direct from them too.
Come to an Open Evening for your chance to ask our current students and alumni your own questions about what it's really like.