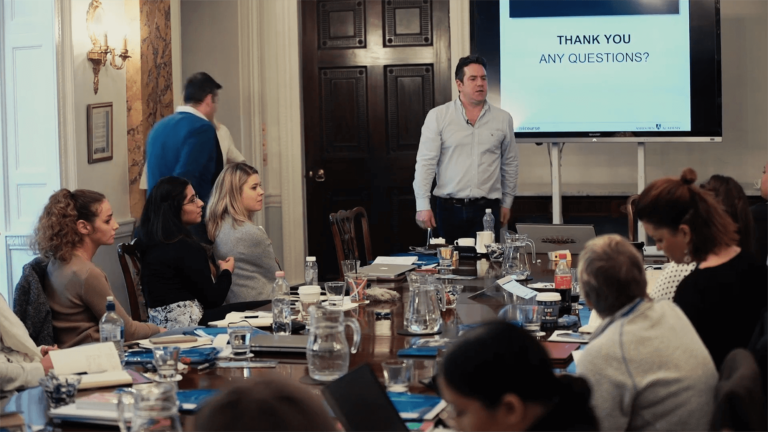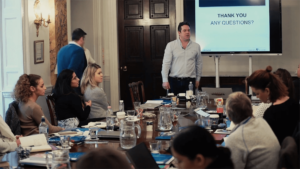 Thinking about getting into event management but feeling a bit dazzled by the wealth of event education options out there? You're not alone! Every day we're presented with questions from event management hopefuls – through our website, email, phones, and Facebook – you name it!
But the biggest barrage of questions comes from our Open Evenings, when the floor's opened up for a frank Q & A where the questions matter and the answers are provided not just by our knowledgeable staff, but those alumni and current students who've experienced (or are currently experiencing) what event education with Event Academy is really like.
So if you're thinking about taking up some events education this, the first in a series of Questions We're Asked posts, is here for you. This first post shares some of those general questions asked at our December 2017 Open Evening, which was bubbling with interest about what's involved in studying with Event Academy, and where it might lead you …
Q & A – The Event Academy Way
#1: How successful are Event Academy students / alumni in gaining jobs in the industry?
Clare Derrick, our Director of Education has the answer to this one: "the most recent statistics show that 88% of our alumni have gone on to work in the events industry, across all kinds of event roles […] Event Academy works hard to support people into the path they want."
And of course, these statistics don't necessarily include those who've used the CIM-accredited qualifications they've gained with us to make a move into marketing and other creative careers, rather than events specifically.
#2: What does studying events with Event Academy involve?
The answer to this varies depending on the course chosen because live courses are delivered and assessed differently to the online courses. However, all courses incorporate that essential experiential learning: learning about events by doing activities, tasks and whole projects relating to live events.
Emily Beard, Live Diploma alumni shares her experiences: "we were working in groups within the whole class – with approximately 5 people in each group. The tutor gets to know the students and works with each group to ensure good experiences and outcomes, and you go out to venues and see what's involved. The Diploma involves a live project and each group works across a different sector, with responsibilities being split within the groups … I was the financial director!"
Overall, Event Academy courses include a combination of lectures, live projects, and experience of different aspects of event management through:
In-class
Out to venues
Working with agencies
Working with production houses
As Emily discovered, not all lectures are delivered in a traditional learning environment, but often within different venues, where you get to see and experience just how events come to life, especially as you're being shown how by professionals themselves: "the lecturers are all in the industry, so students [can] really use their knowledge and contacts to make the most of the course."
At December's Open Evening, Suzie Burton*, student on the Live Postgraduate course agreed with this as she too answered questions, specifically sharing that something which helps (both with the learning and with moving into the events profession afterwards) is "when you study event management with Event Academy, every lecturer is in the industry. What they know, can show you, can share is mesmerising. Martin [Turner] brings his lectures alive with his stories and background knowledge about events."
There are also guest lecturers and wider industry professionals, who choose to work with us to ensure high-quality, industry-relevant learning. These strong professional links mean their own companies benefit from Event Academy volunteers and work experience placements – because they know the high quality of event expertise being taught at Event Academy results in "work-ready" event professionals.
As a mature student, Karen Lim also shared the impact of the learning package, through her experience of the Postgraduate course: "It was very hard work but on the basis of how you put events together it was all very helpful."
---
* There's a post-script to Suzie's experiences too, because the week after December's Open Evening, her group delivered their final project. Take a look at the great event that came out of the group's studies and hear what they have to say about their amazing experience of learning about (and delivering events) with Event Academy.
---
#3: So what kinds of projects will I be involved in?
This frequently asked question has many answers! Generally, our courses involve a considerable number of course-related projects as well as volunteering opportunities across a kaleidoscope of exciting events, notable companies and causes, including (but not limited to):
The Brits
TEDx events
Teenage Cancer Trust – 2017's students raised £13,000 in their Postgraduate final project event.
We The People's Film Festival
Secret Cinema
You can also find out more about this on our Volunteering page.
#4: Can I get onto a course even if I don't have any experience in events?
Event Academy Lecturer and Event Producer Rosie Ham and Claire Derrick take up this question because they know it's an important one for helping you get started with confidence:
Claire: "That's no problem: the courses are about teaching you how to get on with it [event management]. It's alright to learn from scratch."
Rosie also iterates: "The lectures are about teaching you and in the projects, you get on with it! Having the right attitude really helps … if you want to work hard and have an interest in events."
#5: How does the work placement aspect of the Postgraduate / Degree Alternative course work?
Event Academy support staff work closely with the placement partner organisations and venue professionals, whilst Course Director Justine Kane works tirelessly both with students and partners to ensure suitable placements. Interviews take place, giving students opportunities to explain what they've been doing, share their working knowledge and showcase the practical expertise they've been gaining. These interviews are also an opportunity to gain valuable industry interview experience.
And as alumni Karen shared at December 2017's Open Evening, this experience meant the ultimate career opportunity: "I went on the placement and have been working there ever since!"
---
You might also like to look at our Placements page, which shows some of the companies, agencies, and projects our Postgraduate students have been involved with.
---
And that's just the start! There are more posts in this series coming up soon, but if you have specific questions you'd like us to answer there are several things you can do:
Come and chat to our directors, lecturers, staff, students and alumni by signing up for our next Open Evening.