Chloe left school and thought she knew what she wanted to do but after trying it out realised it wasn't for her…what next?
"I decided to take a year out to work out what to do with my life. I worked in retail for a bit until I realised the only thing that had given me that excited spark in a while was planning my Mum's 50th birthday party."
"So I decided to do events, and I've not looked back."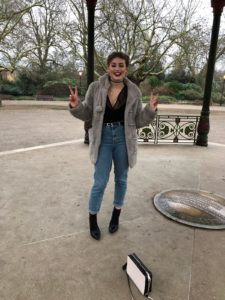 Why did you choose The Event Academy?
"The Event Academy impressed me with an exceptional level of industry contacts, the location, the placement scheme and also the amount of skills you are able to learn but before the course started, in all honesty, it was pure fear!
Since before my GCSE's, I'd always thought I wanted to be on stage and now to be faced with a completely new world that I had no knowledge of or experience was scary.
The unknown is always daunting, but from day 1 that was wiped away as the course solidified my theory that event management was what I wanted to do."
What are your Top 3 takeaways from the course?
"Firstly just the care I received from tutors, their support is honestly so refreshing. They nurture your creativity, help you assess mistakes and most importantly they speak to you on a level. Especially Becs and Rosie (our Course Tutors), I felt they believed in me from the very beginning and really pushed me on every project.
Secondly, the live projects – working with real briefs and experiencing supplier conversations was something that definitely has aided me in the real world.
And lastly, the variety of classes, it sets you up in good stead for the real world but also gives you an insight into how the industry works from all angles."
 
Chloe has finished her time in class and gone straight into work…
Where are you working now?
"I'm currently on my placement at The Proposers, a luxury marriage proposal planning company."
Describe your day to day role and what you love best about it?
" No two days that are the same here, I've done everything from networking with our partnerships over champagne to working on huge budget proposals that require me to hide in a bush in the freezing cold pretending to be a tourist. It's amazing, I could not of have been placed in a more exciting company."
How do you use your knowledge from the course in your role?
"Every day I'm not only using the skills I'm taught to book suppliers, create plans etc. but I'm adding and expanding it which is invaluable."
If you look back how do you think doing the course has changed your life?
"It's given me confidence in my ability to smash a career in Event Management and also handed me back a level of pride in myself and my skills that I had lost over the years."
Anything else you'd like to share with us?
"I think I've rambled on for a while now but honestly just to say thank you for the experiences you provided me with, it's truly started me on a path for the rest of my life."
"Oh and here's a picture of me about to do a Proposal….ice skating as part of a proposal on Canary Wharf ice rink!"