Degree Alternative Student Experience
Last updated June 7th, 2023
We want you to have the best possible experience while studying our Degree Alternative course with us.
Our will be of a small, friendly and supportive community learning from experts in the industry and building valuable connections.
Our Student Services team, your Course Tutor as well as our Principal Claire, are always on hand to help with advice and guidance whether you are have a academic question or a more personal issue.
We are here for you.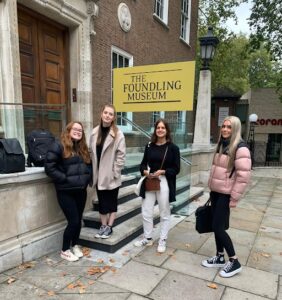 And there's so much more…here's what you can expect from your time with us:
Exciting Venues: Our lectures and site visits take place in some of London's most exciting venues, from museums to high-end event spaces. This immersive approach to learning means you'll get a real feel for the industry, and start building connections from day one.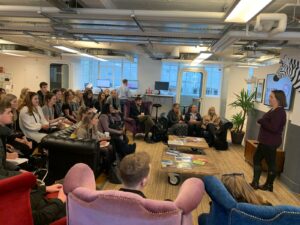 Students visiting the WRG Agency
Personalised Learning: We keep our classes small and intimate, so you'll get to know your fellow students and tutors well. This means we can tailor our courses to your specific needs and provide you with the support you need to succeed.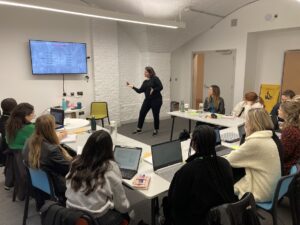 Community and Friendships:
Studying with us is a great way to make lifelong friendships with like-minded people who share your passion for the events industry. This means you'll have plenty of opportunities to socialise, network, and build connections. We often see our graduates still supporting each other on social media like
Linked In
or
Instagram
Expert Guest Speakers: We regularly invite experienced professionals in the industry to speak at our lectures and events, giving you access to their knowledge and expertise. They could also become part of your network, which could be invaluable when it comes to finding work or starting your own business in the industry.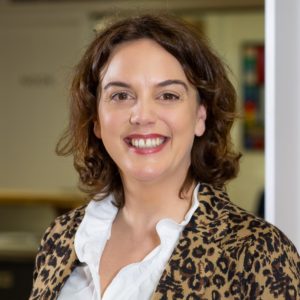 Kath Goodson
Global Client Engagement Director, The Creative Engagement Group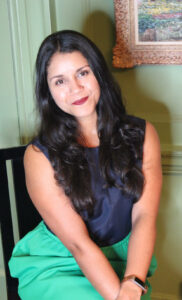 Gabrielle Austin Browne
Co Founder, Diversity Ally
Earn While You Learn: Get paid to work and volunteer at events including Brit Awards, Glastonbury, Royal Ascot and Secret Cinema.
Student Support: Our academic team are here to support you throughout your course from our Student Services team to our Course Tutors and our Principal, we will be with you every step of the way.
Virtual Learning: While most of our lectures take place in person, we offer some virtually so that everyone can participate in the course regardless of their location or circumstances.
We believe that the student experience is just as important as the quality of our courses. We're committed to providing you with an immersive, personalised, and community-driven learning experience.
So, come and join us and let's create some unforgettable memories together!