How Does the Degree Alternative Work?
Last updated May 17th, 2023
So let's dive into the detail of what to expect from our amazing one year Degree Alternative course and how we are going to fast track you into a career in event management.
Our course is designed to give you a flexible, unique learning experience that combines virtual and on-demand lectures, as well as live classes in London.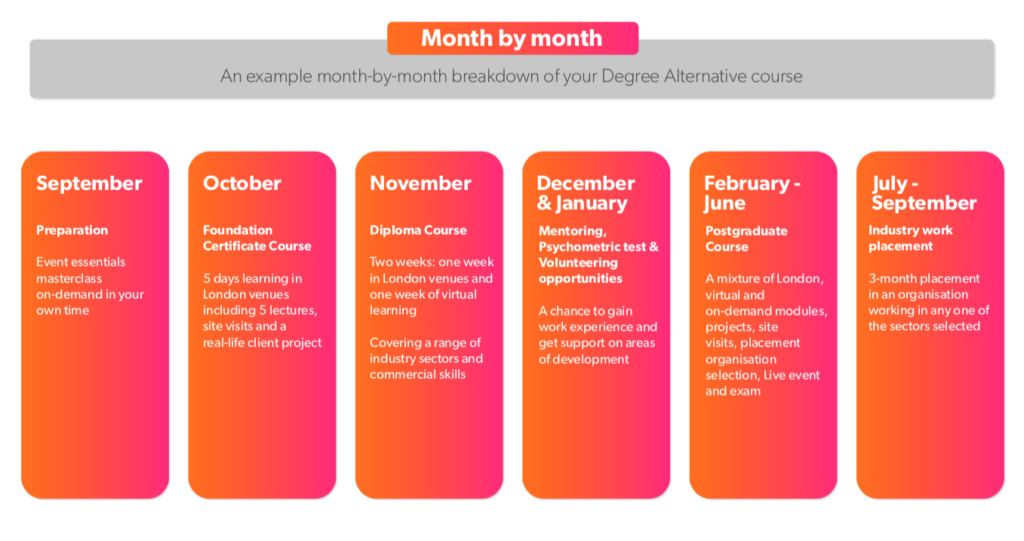 The Degree Alternative programme covers three different CIM qualifications levels; starting with CIM level 3 (a one-week course), followed by CIM level 4 (a two-week course), and finally CIM level 7 (a postgraduate course that lasts for six months).
Our courses are designed with practical application in mind, so you can apply what you learn right away.
One of the best things about our course is the flexibility it offers. During the Postgraduate section of your course, you can work part-time and gain valuable experience through our exclusive volunteering opportunities via our Jobs Board, as you will only be needed on Monday and Tuesdays. We believe that gaining real-world experience is key to success in this industry, so we offer a range of opportunities to help you build your skills and knowledge.
And that's not all – our mentoring programme is designed to support you throughout your time with us and beyond. We work with you to ensure that you have everything you need to become the best event planner you can be once you graduate.
So if you're ready to take the first step towards a career in event planning and management, why not join our Degree Alternative course? We can't wait to see what you'll achieve!