What Is The Online Postgraduate Experience Like?
Last updated June 1st, 2023
Our Online Postgraduate Diploma not only gives you the highest accredited qualification to turbo charge your career but also a flexible learning experience to fit around your work life balance.
Let's breakdown the course experience…first the month by month schedule of your study….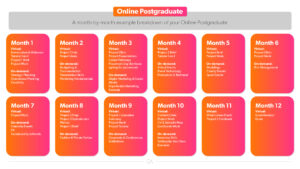 But what else can you expect?
Guided Learning: Our students are supported by the senior academic team throughout the course both with their personal learning journey, starting with an on-boarding call. On this call you will meet your fellow students – wherever they are in the world!
24/7 Access to the online hub: Our Learning hub enables you to access your learning with confidence, at any time and from any device.
On-Demand Lectures Taught by Industry Experts: Our lectures are taught by experts in the event industry and are available on-demand, which means you can watch them at your own pace, pause them, or even rewind them.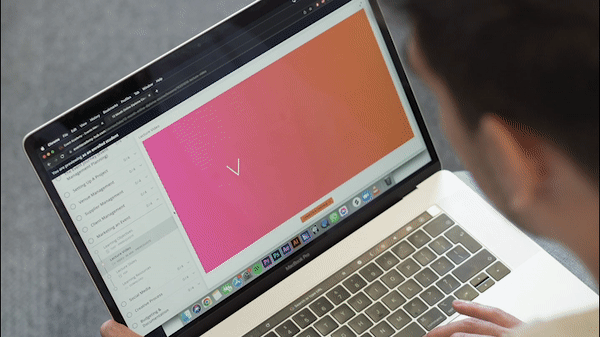 Practical Learning Through Individual Projects: We want to help you gain valuable experience in the event industry, which is why we provide practical learning experiences through individual projects. We've worked with some amazing clients, including Hilton Group, EE, Cancer research, Pret-a-manger, and the British Army, to ensure you get hands-on experience that will help you build important skills.
Webinar Library Access: With over 30+ hours of content from guest speakers and experts in the event industry, you'll be sure to stay ahead of the curve. You can access these at any point in your journey!
Valuable Event Experience Through Volunteering: We offer our students exclusive access to our volunteering page – you can sign up for these as and when they pop up.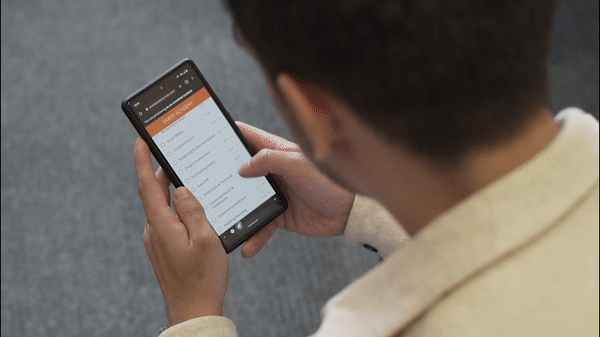 Final Project – creating a real life event: As a part of your final project, you will create a real-life event, which will further enhance your practical skills and prepare you for the industry. To give you a well-rounded learning experience, you will have the option to attend one live lecture in London and four real-time virtual classroom lectures.
We aim for each student to achieve their maximum potential. Over 65% of our Postgraduate students have achieved either a Distinction or Merit since 2019 – this is a credit to the high standard of our courses, teaching and students.